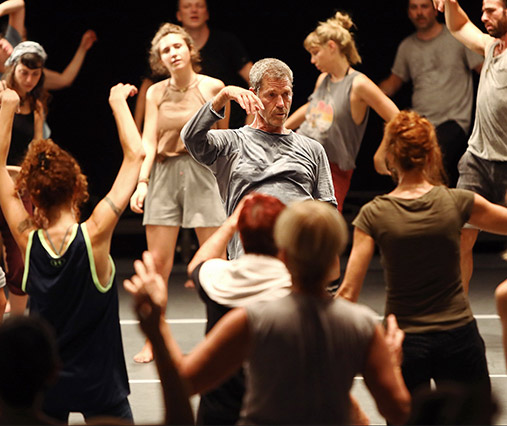 During his tenure as artistic director of Batsheva Dance Company, Ohad Naharin channeled his lifelong curiosity about movement into a concerted, dynamic research that took form as Gaga. Weekly classes with the troupe's dancers in the 1990s served as a significant laboratory, and after a member of Batsheva's wardrobe staff approached Naharin in 1998, he embarked on a parallel research process with the company's office workers, friends, and family. Classes were first made available to the general public in 2001, and in 2002, at the request of Batsheva's dancers, Naharin's movement language became the main daily training for the company. Naharin coined the name Gaga in 2003, and he continues to research and develop Gaga daily. Classes are offered to the public in Israel and around the world in two main tracks: Gaga/people and Gaga/dancers.
Gaga/people classes offer a framework for users to connect to their bodies and imaginations, experience physical sensations, improve their flexibility and stamina, exercise their agility and explosive power, and enjoy the pleasure of movement in a welcoming, accepting atmosphere.
Throughout the class, participants are guided by a series of evocative instructions deployed to increase awareness of and further amplify sensation. Rather than turning from one prompt to another, information is layered, building into a multisensory, physically challenging experience. While many instructions are imbued with rich imagery, the research of Gaga is fundamentally physical, insisting on a specific process of embodiment. Inside this shared research, the improvisational nature of the exploration enables each participant's deeply personal connection with Gaga.
Information about the class:
Gaga/people classes are open to people ages 16+, regardless of their background in dance or movement. Classes last approximately one hour.
Participants should wear comfortable clothes and be prepared to dance barefoot or in socks. It is advisable to bring a bottle of water and a towel for use after class.
Join us:
Gaga/people classes are taught daily at the Suzanne Dellal Center in Tel Aviv, as well as in other locations in Israel and internationally.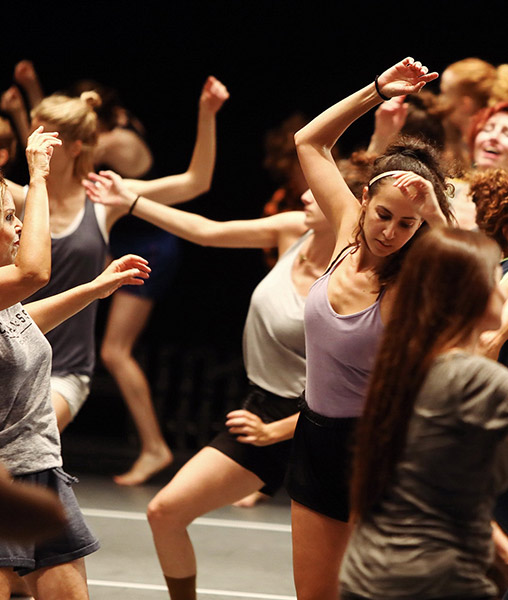 Gaga/dancers deepens dancers' awareness of physical sensations, expands their palette of available movement options, enhances their ability to modulate their energy and engage their explosive power, and enriches their movement quality with a wide range of textures. The classes are built on the same principles as Gaga/people classes but also employ the specific vocabulary and skills that are part and parcel of a dancer's knowledge. The layering of familiar skills with Gaga tasks presents dancers with fresh challenges, and throughout the class, teachers prompt the dancers to visit more unfamiliar places and ways of moving as well, unlocking the endlessness of possibilities. Dancers are guided to connect their effort to pleasure and to discover the virtue of silliness.

Information about the class:
Gaga/dancers classes are open to dancers and advanced dance students ages 16+. Classes last between an hour to an hour and fifteen minutes.
Join us:
In addition to open Gaga/dancers classes, Gaga Workshops around the world enable dancers to deepen into the Gaga language with classes in Ohad Naharin's repertory. With an expanded faculty and schedule, GagaLabs offer a rich, multilayered research including repertory, methodics, and improvisation sessions.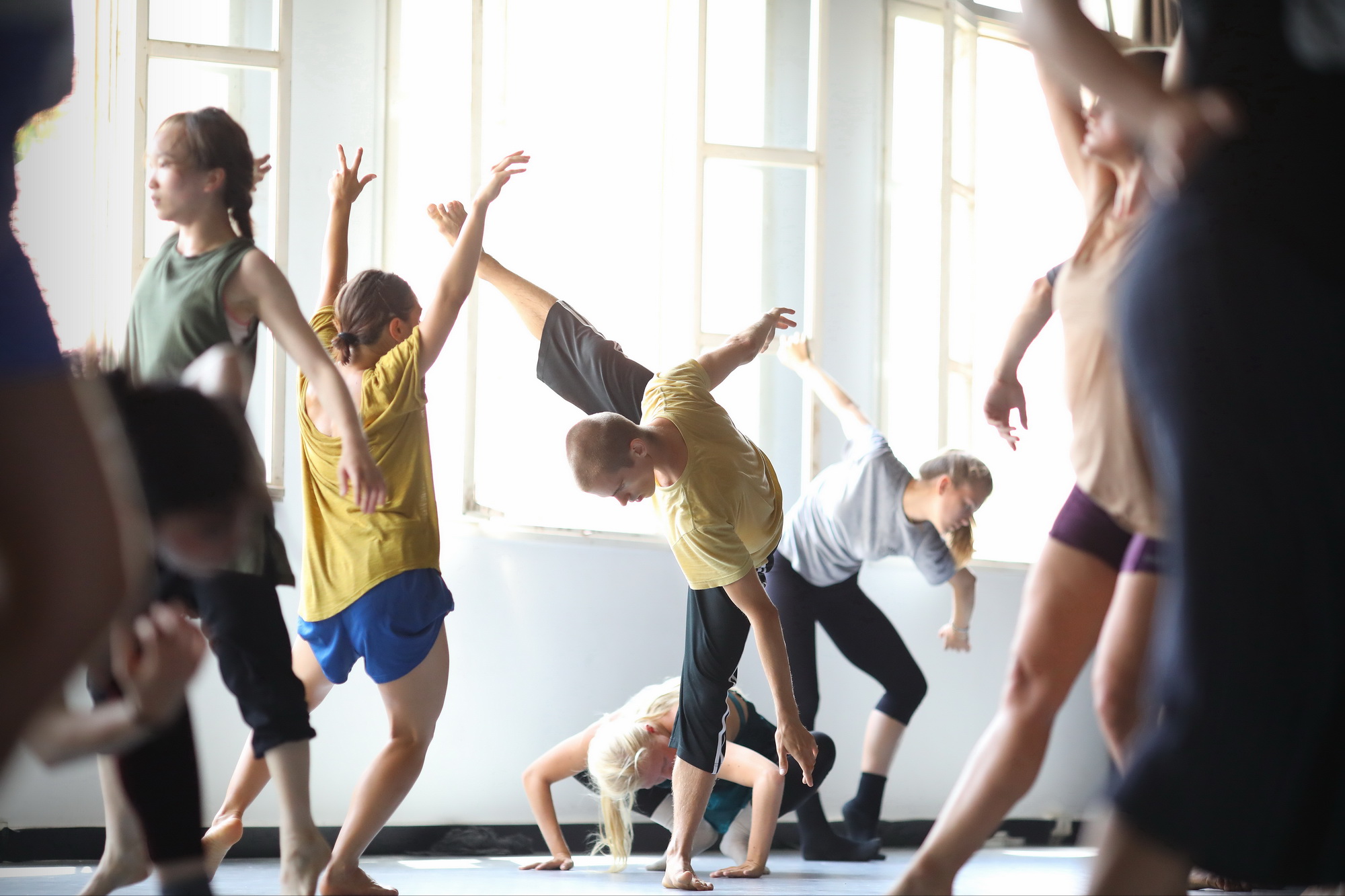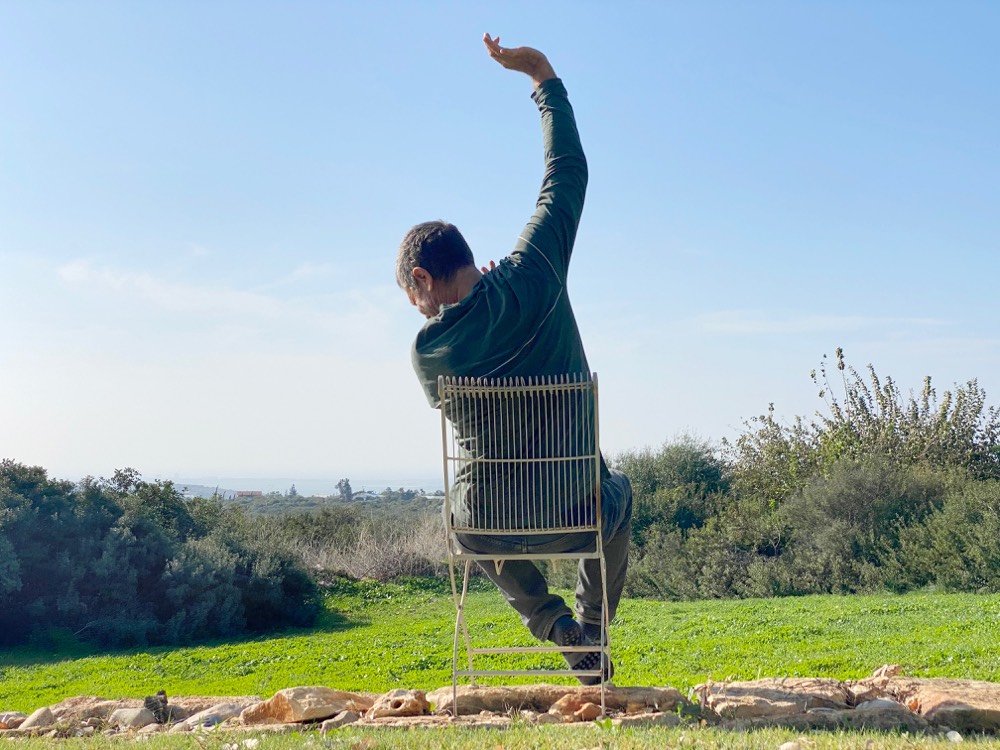 Small gestures, great pleasure
Gaga/seated class is available for a range of people who find it challenging to exercise while standing. The class offers physical research that acknowledges limitations while emphasizing the healing power, strengthening potential, and pleasure of movement.
Join us: Gaga/seated classes are available in person in Israel.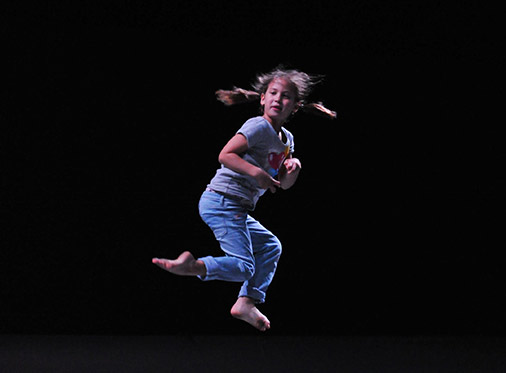 Gaga invites children to experience the magic of movement through Gaga for families. Gaga provides children with tools and skills for personal and independent development. The language nurtures imagination, creativity, flexibility, explosive power, coordination, agility, balance, delicacy, improvisation, humor, and attentiveness to a broad range of sensations. Classes are taught with attention to each participant and his/her abilities and pace of learning. Gaga encourages the channeling of different emotions into a physical experience, in an atmosphere of freedom and with the joy of activity, and it strengthens the child's sense of competence.
Information about the class: 
Ohad Naharin has found that the value of Gaga for children lies in the cooperative work alongside an adult family member. Gaga/families is open to children age 6-10 and accompanying adults.  Classes are 50 minutes long and take place in studios without mirrors.  
Stay physically engaged throughout the session, without stopping. You can play with the volume of your effort while preserving sensations that were already awakened.
We play with layers of information
The instructions are layered, and we continue to attend to the instructions already introduced – and to their impact on our bodies – throughout the class.
Gaga's instructions guide us to first listen to the body and discover its range of sensations before we tell it what to do. We encourage you to connect to pleasure, especially during effort.
We work with our eyes open
You are invited to be inspired by the teacher and by other people in the room or the Zoom. Please be aware of people around you and of the space.
Arrive 15-20 minutes early to prepare yourself for class and find a place in the studio. There is no entry for latecomers. Our online classes open 10 minutes before class.
We take care of our bodies
If you have any limitation, restrictions, or physical pain due to illness or injury, stay sensitive to your body and adjust accordingly. The only pain welcome in Gaga is the burning sensation in our muscles.
During the session we do not speak unless instructed to use our voice or words. 
Comfortable clothes. Come prepared to work barefoot or in socks in the studio. Sneakers are welcome for online classes.

Discovery. Openness. Availability. Wellbeing. Inspiration. Passion.  
Peek into our studio to get a sense of Gaga.
Join us to awaken the scope of your sensations.  
Want more information about Gaga?